Chrysalis Center's fundraising events are a wonderful and fun way
to support our mission!

---
Join Chrysalis Center for Donation Creation 2022!
Donation Creation is a food drive with a twist! We invite friends, family, colleagues, civic or other organizations to create a team and collect nonperishable food items for Freshplace, Chrysalis Center's innovative food pantry. Donation Creation kicks off April 1st and goes until June 1st. You can collect nonperishables anytime throughout the two months. 
Teams are encouraged to create a sculpture with the donations. Take a photo of your sculpture, once it's complete, to be entered into the "TOP CAN" contest! ** Teams are encouraged to make a sculpture but it is not required for participation. **
All nonperishable items to benefit Freshplace, located on Chrysalis Center's main campus, at 255 Homestead Avenue in Hartford. Freshplace serves individuals and families living in the poorest neighborhoods of Hartford.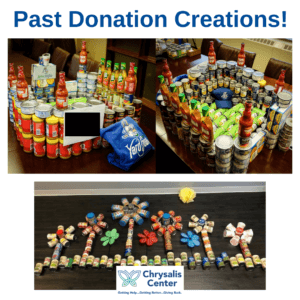 CLICK HERE for your Donation Creation 2022 Toolkit.
CLICK HERE to register your team online.
---
 HOORAY!!  We are thrilled to announce Chrysalis Center's Virtual Butterfly Bash Raised $150,000 this year to support Chrysalis Center's mission to help transform lives! THANK YOU to all of our wonderful supporters, corporate sponsors, honorary and event committees, and friends for joining us for our virtual event and for your amazing generosity! It takes a village and we have a beautiful one!  *** Mark  your calendars and join us for our Annual Butterfly Bash IN PERSON next year:
Thurs, Oct 13th 6-9:30pm at the Hartford Marriott Downtown! 

---
Host An Event or Food Drive!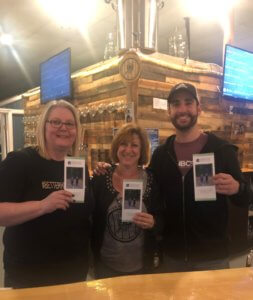 Did you know that by designing and hosting your own fundraising event for Chrysalis Center, you can be part of the solution? It's fun, simple and impactful!
You can also host a food drive for our Freshplace Food Pantry, which feeds up to 100 families in Hartford year round.
There are so many ways that you can raise funds to support our mission and help us transform lives.  Whether you host an event or food drive (or collection drive), you can make a big difference in the life of an individual or family…and have a great time!
Download our Fundraising Toolkit (PDF) and Chrysalis Branding Brand Guide (PDF) and make a difference today! Here are just a few creative ideas to get you started:
Give Back Night: Invite the community to a special night at a restaurant, brewery or pub and donate a percentage of the proceeds to Chrysalis Center.
Jeans Day:  Staff or students can pay $5 each to wear jeans instead of more formal attire!
Lunch and Learn: Schedule a lunch and learn at your work, and Chrysalis Center will send a speaker to tell your staff about our life-changing programs and how you can make a difference.
Food Drive or Collection Drive: Host a food drive or collect items for Chrysalis Center clients at your office, on campus, or with friends online. Set a realistic goal and challenge others to participate by donating money or goods to benefit Chrysalis Center's Freshplace food pantry. Our wish list of items can be found HERE!  Scroll down until you see Chrysalis Center's "Wish Lists".

Birthday  Fundraiser:  In lieu of gifts, ask friends, family and coworkers to donate to Chrysalis Center.
Athletic Milestone: Running a marathon or riding in a bike race? Ask your friends and family to sponsor you or make a tribute gift to Chrysalis Center in your honor.
Walk/Run: Organize your own walk/run with friends, colleagues, and family. Plan a route in your neighborhood (or venture somewhere new) and end with a casual lunch or barbecue. Encourage participants to bring a donation for Chrysalis Center.
Car Wash: Organize a car wash and donate proceeds to Chrysalis Center.
Scouts or Mitzvah Project: This is a great opportunity to get the kids involved and instill the values of philanthropy at a young age. Here's a great example of one 16-year-old who came through for us!
Do you have feedback, more event suggestions, photos, or a story about an amazing event you've hosted?
Let us know!  Email smitchell@chrysaliscenterct.org or post on our Facebook page