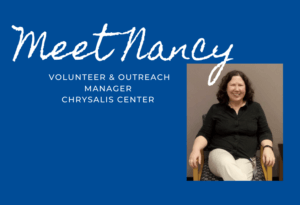 Hi everyone!
I am so excited to be writing the first blog for our new "Volunteer Blog". In case I may not have met you yet, I am the new(ish) Volunteer and Outreach Manager here at Chrysalis Center.  Prior to coming to Chrysalis, I worked volunteers at the Girl Scouts of Connecticut.
I chose the nonprofit path because I feel it's important to do something which helps others. I love working with volunteers because they give so much of themselves and are an inspiration for others. I think they exemplify what it means to give back and help others in need, while connecting with their fellow human beings in a meaningful way.
Here at Chrysalis Center, I feel fortunate to work at an organization that does so much for the community and families in need. From our Freshplace innovative food pantry, to finding homes for homeless individuals and providing critical supports to individuals, families and Veterans in need, Chrysalis is such a special place.
For the past two months, during this COVID-19 pandemic, I have had the opportunity to talk almost daily with our volunteers through email exchanges.  It seems as though everyone is excited to come back to Chrysalis Center and volunteer again! Many have expressed worry and concern for our clients' health and safety, and hope they are well. I think this truly shows who our volunteers are and their level of commitment to Chrysalis Center and our clients.
During this critical time, and throughout the year, I honor all of you who choose to give of your time, talents, and commitment to helping others in need. You help our clients become their best selves and assist them in so many ways. Every time I visit Freshplace, attend a bingo game or arts and crafts night in one of our supportive housing sites, or stop by one of our volunteer programs in our Recovery and Empowerment Center, I am so impressed by the engagement of our volunteers and the love they show to our clients and their families. 
We truly have the best volunteers at Chrysalis Center, and I am blessed to work with each and every one of you!  I look forward to working with all of our current volunteers and look forward to meeting new ones, when we can safely resume our volunteer program. In the meantime, stay safe and healthy.
Thank you again for all you do for Chrysalis Center!
~ Nancy
Nancy Sherman
Volunteer & Outreach Manager
Chrysalis Center